Chicken pie wins Supreme Vegan Pie Awards
Tart Bakery from Grey Lynn in Auckland has taken out the Supreme Vegan Pie Award with a vegan chicken pie. This year's Supreme Winner receives $1000 in prize money.
The judges of the Vegan Society Aotearoa's Supreme Vegan Pie Awards really had their work cut out for them this year, as there were more than 100 different pies entered across 8 different categories.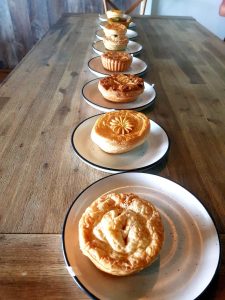 The Awards were held on October 31 at Award hosts, The Butcher's Son, in Herne Bay. A Gala Dinner evening followed with an array of bakers, VIPs and winners turning up to enjoy a delicious meal in celebration of this year's event.
Richoux Patisserie had been a consistent winner across most categories they entered since the inaugural Awards, thus last year Richoux Patisserie owner Jason Hay became a judge for the awards. Hay was given a Lifetime Contributor's Award at last year's ceremony, after proving to be an excellent judge of pies. His expertise in understanding what makes a good vegan pie helped the judges come to their decisions in this year's competition.
The panel of expert judges this year were industry and veteran Award judges Aaron Pucci and Jasbir Kaur, Brad Jacobs of the Coffee Club and of course, the formidable Jason Hay of Richoux Patisserie. Special guest judge was Tom Sainsbury, vegan comedian, who also MC'ed the Gala Dinner, attended by vegan VIPs.
The Aotearoa/ NZ Supreme Vegan Pie Awards results for 2022 are:
Vegan Steak and Vegan Cheese:
Winner: Wild Grain Bakery
Runner-Up: Fat Kitty Cafe
Judges said: "The best flavour of steak and sauce."
Vegan Mince and Vegan Cheese:
Winner: Wild Grain Bakery
Runner-Up: Tart Bakery
Judges said: "Meaty, moist filling with a deep rich colour and creative presentation."
Vegan Chicken:
Winner: Tart Bakery with their Chicken Pie
Runner-Up: Lemonwood Eatery with their Chicken and Mushroom
Judges said: "Amazing buttery pastry, pleasing aroma, rich and creamy filling."
Vegetable:
Winner: Taste Café with their Amok Vegan
Runner-Up: Wild Grain Bakery
Judges said: "Very buttery pastry, with a unique flavour, creamy texture and a nice colour of filling."
Café Boutique – any sort of pastry, shape, open or closed
Winner: Logan McLean with their Korean BBQ Beef
Runner-Up: Lemonwood Eatery with their Mushroom Vegetable
Judges said: "Moreish with an unbelievable texture; had us scrabbling for the last pieces!"
Gluten Free
Winner: Rainbow Kitchen with their Pumpkin Satay
Runner-Up: Pioneer with their Mince, Potato and Cauliflower
Judges said: "Beautiful innovative presentation, a generous and attractive filling with a rich satay flavour."
Sweet
Winner: Wild Grain Bakery with their Spiced Apple and Berry
Runner-Up: Piccolo Morso with their Mango, Mint and Rhubarb
Judges said: "Amazing presentation, well balanced flavour and texture and a great choice of fruit."
Commercial
Winner: Kai Pai with their Roast Veg and Cashew
Runner-Up: Baker's Son with their Mince and Cheese
Judges said: "Pastry held together well, with a generous creamy, well balanced filling."